Cooking Up Champions
Students Compete in Iron Chef Competition
Hang on for a minute...we're trying to find some more stories you might like.
Culinary Arts teacher Laura Craddick created an extraordinary challenge for her students. The Iron Chef Challenge occurring the last several weeks has pushed students' creativity and patience. The final two teams have survived each week and will close with a special Mardi Gras themed Iron Chef finale from  9:30 a.m. to 12:30 p.m. on February 27.
"I think the competition is a great way for each student to be able to showcase their talents in the kitchen," junior Margie Savage said. "It gives us hands on experience in what it takes to run a kitchen."
Each date had a separate category including appetizers, Valentines Day, and desserts and will end with a Mardi Gras theme. The competitors discovered their own recipes that can be manipulated to fit the secret ingredient Mrs. Craddick gave them.
"I'm nervous and also very excited to see what recipes the other teams [come] up with," sophomore Abby Coleman said. "We've used lots and lots of Pinterest recipes to get ideas for our dishes."
The competition started with nine teams, three from each of the Culinary Arts classes. Each week one team from each class was eliminated. However, during the third week only one team was eliminated, leaving the top two competing for the final.
"I honestly hope we stay in the competition for a few rounds, but we have some really talented competitors," Savage said. "It'll all come down to who works better under the pressure."
A panel of three judges decided who would be eliminated each week. During appetizers week, with a secret ingredient of avocado, Chilly Dilly's, La Coux, and Munchie Mafia were eliminated.
"It's really challenging to create a new dish each week," junior Bailey Mills said. "But it's all worth it when you see the judges' faces as they try your dish."
During the Valentines themed dinner, with secret ingredient of bacon, Team Slatt, 50 Shades of Food, and Bee Delicious were eliminated, leaving three teams to compete for a spot in the finale.
"It's bittersweet to be eliminated." junior Jaylin Hughes said. "It's sad knowing you didn't win, but it takes all the stress of competition off of your shoulders."
Dessert was the next theme with a secret ingredient of jalapenos. Ironically, Jalapeno Business was eliminated, leaving Simmer Down and Cuisines out of Paradise to compete in the finale.
"I'm excited to see who will win," Mills said. "Even though we were eliminated, everyone is still anxious to find out who will be the Iron Chef Champions."
About the Writer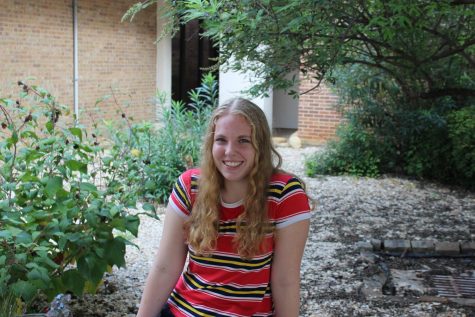 Erin Rachel, Staff Reporter
Erin is a junior and staff reporter.