Filming the Way to First
Sophmore's Video Open to Votes
Sophmore Rachel Lewis' Video
Heat waves during summer, sand in the west, and beaches in the south all make up the state of Texas. But pollution, littering, and waste of resources continue to be a problem for this grand place. Hundreds of students from all over the state attempted to submit the best video on how to minimize these problems. Sophomore Rachel Lewis is one of those participants whose video quickly came out on top. 
After Texas Commission on Environmental Quality (TCEQ) invited Texas students to participate in the Take Care of Texas Video Contest, Lewis finished in the top six. Public voting opened today and will close on Jan. 29. 
Vote for Rachel's Video: http://takecareoftexas.org/teens/vote-your-favorite-video-2020
"I honestly didn't expect to advance, but I'm super excited that I did," Lewis said. "I got the idea to enter this contest from my teacher and most of my class entered."
To enter the contest, students created a 30 second video that illustrates ways Texans can help keep the air clean, keep the water clean, conserve water, save energy, or reduce waste.
"I am so proud of Rachel's hard work in this contest," Eagle Production teacher Tammy Gawryszewski said. "Being selected in the top six out of 507 videos is amazing."
There are three rounds of judging, including a round of public voting. In the first round, Take Care of Texas staff reviewed all the submitted videos and selected the top six. In the second round, the public will vote for their favorites from among the top 6 videos. In the final round, commissioners and executive staff of TCEQ and representatives from Waste Management of Texas Inc. will pick the first, second, and third place winners for the 9th through 12th grade division.
"She is the only student from Audio Video Production class to make the finals," Gawryszewski said. "Rachel needs our help to advance to the final round."
Prizes for the three high school students will include scholarship funds as followed: first place-$2,500; second place: $1,500; and third place: $500. Winners will be announced on Feb. 24.
"I need your help to advance to the top three and win a scholarship," Lewis said. "Go vote for my video, every vote counts."
About the Contributors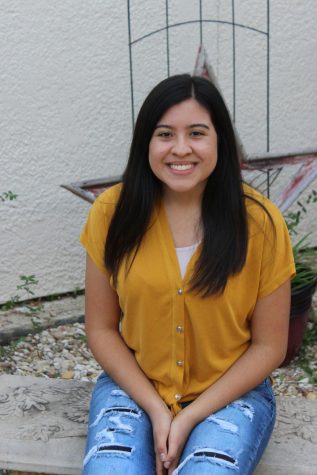 Nereyda Espinoza, Manager Editor
Nereyda is a senior and manager editor for the Eagle Beat newspaper. She competes in UIL Journalism and Number Sense. She is involved in Beta Club and...