Dunlap Places in Voice of Democracy
Rebecca Dunlap presented her Voice of Democracy speech to the student body on Monday. The speech was for the VFW Youth Scholarship, with the theme "American History: Our Hope for the Future." Dunlap placed in the top three from Fairfield and second from Freestone County, earning $150.
"I was so nervous to read my speech that I was shaking," sophomore Rebecca Dunlap said. "I worked hard on it though and in the end it paid off because I got second."
Several VFW members were present to give the award to Dunlap.
"I think Voice of Democracy is a great opportunity to possibly earn scholarship money while also making you really think," Dunlap said. "I will definitely continue submitting essays in later years."
Read Rebecca's speech below:
Hope for Our Future by Rebecca Dunlap
As our world becomes more and more controversial people are more and more willing to state their opinions or vocalize what changes they think should be made, but not inclined to work for their wishes. People are eager to point out mistakes, yet do nothing to make improvements. Nelson Mandela said that, "we can change the world and make it a better place. It is in your hands to make a difference." Therefore, there is only hope for our future if we stop mentioning errors and waiting for other people to alter the world for us. I hope that in the near future we kick-start the motivation, and fire up the ambition to refine the world ourselves.
Nelson Mandela put and end to something he viewed as unlawful, dishonorable, and evil. As a result, Mandela united millions and used his voice to terminate Apartheid. He proved that with the help of a community or nation; goodness can prevail. In 1 Corinthians 1:10 Paul states: "now I beseech you, brethren, by the name of our Lord Jesus Christ, that ye all speak the same thing, and that there be no divisions among you; but that ye be perfectly joined together in the same mind and the same judgement." The young generations of our nation cannot already be stuck in their ways. At a juvenile age opinions do not yet have enough strength to guide actions. As young people we cannot be divided because of our opinions. We must open our ears, and build our beliefs based off of numerous observations; while acknowledging other people's views as well.
It is inevitable that social media will continue to grow in our country's future, but our focus must be on how authority should manage it. David Amerland shines a light by saying that, "social media is addictive precisely because it gives us something that the world lacks: it gives us immediacy and direction." It is unrealistic to think that people will give up the ability to immediately state their opinions freely on social media. However, it is realistic to work on cleaning up and improving the content of the social media world. The average teenager checks their phone over ninety five times a day, and if the only thing they see is negativity then our future is bound to be impacted negatively as well. Malcom X said that, "the media is the most powerful entity on the Earth…because they control the minds of the masses." The influence the media world has on people nowadays is undeniable, so in our future I hope that the influence is directed in a beneficial way. By taming our tongues in person and within the media worlds our future, as a whole, can be encouraging and constructive.
The future is beginning right now, and there is no time to waste.  The older generations time to make amendments has passed. The future is no longer in the hands of the adults,  but in the hands of the youth. If today's generation steps up and does half the job generations before did; our country will have hope. However, it is not the same country it was 25 years ago, for there are better methods of immediate communication and information. We can either abuse our technological advancements or use them to our advantage. We cannot stand divided and expect to make any positive changes. By taking on the world united as a whole, stating opinions respectfully, our country's future can only exceed expectations.
Our world can only improve if we want it to. Hope can only get us so far, but by acknowledging other people's opinions and conquering issues as a whole; the results for our country can only be good. The hope for our future lies not with the government or previous generations, but within every young person. By finding the courage to support our opinions and beliefs people will not only find their voice, but also have the audacity to make changes.
About the Contributors
Molly Allred, Managing Editor
Molly is a senior and the managing editor for Eagle Beat.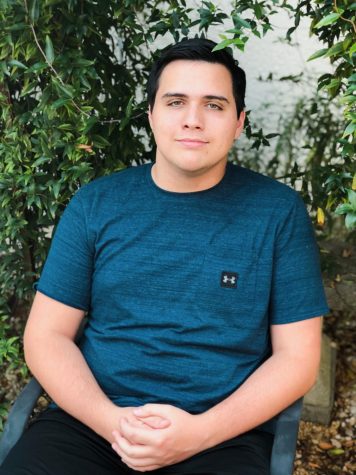 Jack Ezell, Sports Editor
Jack is a senior and the sports editor for the Eagle Beat.