Dual Credit Class Offers Welding Skills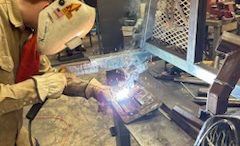 Dual Credit Welding 2 is a newly available elective for those interested in college welding courses and will continue to be offered next year.
"It concentrates more on what colleges teach and gives more in-depth practice," Dual Credit Welding 2 teacher Coach Max Mcgeary said. "This is the first year it has been offered here and so far it's been pretty neat."
The Dual credit welding class would transfer to 6 hours of credit to TSTC college.
"Welding means everything to me and I am currently an employed welder at Long Industries," senior Cale Myers said, "I plan on continuing my welding career after graduation while I work on getting a business degree."
The class lasts two periods and has capacity of 12 students. It can contribute to a variety of career paths.
"I am taking it to get better and get certified so I can do underwater welding once I graduate," junior Colton Harvel said. "I'd say I enjoy it."