OAP Prepares for Competition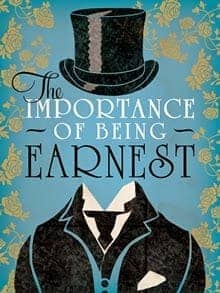 The One Act Play cast and crew will perform The Importance of Being Earnest March 9 at the UIL One Act Play competition at Teague high school.
Prior to competition, the cast and crew will hold a public performance at the Fairfield High School auditorium on Sunday, February 27 at 3 pm. Admission to the performance will be $5 for adults, and students and children free.
"I chose the play The Importance of Being Earnest because it is a classic and a tale I am familiar with," director Hannah Spradlin said. "I remember reading it for UIL Literary Criticism when I was in high school. It feels full circle now, as I am directing it with Mrs. Maciel, who was my Lit Crit coach at the time."
The play follows the tale of two bachelors John 'Jack' Worthing and Algernon 'Algy' Moncrieff, who create alter egos named Ernest to escape their tiresome lives. They attempt to win the hearts of two women who, conveniently, claim to only love men called Ernest.
"
In matters of grave importance, style–not sincerity–is the vital thing."
— The Importance of Being Earnest
"I am very excited about my cast and crew this year. I have several upper-classmen who have really developed their skills over the last few years, as well as a few newcomers I am thrilled to work with," Spradlin said. "However, I am also saddened by how many seniors I will be losing after this year!"
Cast consists of Jeremy Kilkenny as Algernon Moncrieff, Jonathan Thomas as Jack Worthing, Demetrio Reyes as Lane, Jordan Maciel as Lady Bracknell, Alyson Sanchez as Gwendolen, Emma Jo Smith as Miss Prism, Britney Delgado as Cecily Cardew, Reggie Robinson as The Rev. Dr. Chasuble, and Kelton Carlson as Merriman.
"With the practices so far, I have seen a steady improvement and expect a well thought out and rehearsed characterization of our roles when we first premier," Thomas said. "I am certain that with hard work and dedication to our parts, we will dominate at district."
Backstage crew consists of Sebastian Matthews on sound; Nathan Dunlap and Seth Couture on lights; MaKenzie Van as Stage Manager; Payton Botelho, Dennise Salazar, Rachel Reyes, Raelynn Cain, and Elizabeth Rath on stage crew, specializing in costumes, makeup, props, and set. 
"I love being the stage manager for the drama club. It makes my day to help with the making of these plays and creating something everyone loves. I'm very excited about this play because I love the Victorian era," Van said. "I hope to be a great stage manager for Mrs. Spradlin, the actors, and my crew. 
The date of the performance for the school will be announced before the district contest. The cast and crew will also rehearse their performance the day before competition from 2:30 to 3:30 p.m. at Teague high school.
"I am looking forward to another chance at competition. Last year I was completely new to it, and I didn't quite know what to expect." Spradlin said. "It is tough competition being in a district with 8 schools, with only three advancing and one alternate school. However, we have a really talented cast and crew, and I believe they are capable of producing a really strong, entertaining show!"