A Christmas Miracle
The Tale of a Girl's Magical Christmas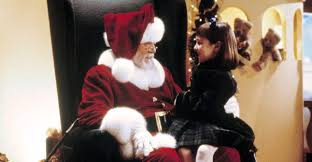 The holiday season is not as bright when Christmas movies are playing on the living room screen, but nothing can beat a classic unless you're my mother who only watches the Hallmark channel. 
A Miracle on 34th Street is a heartwarming holiday story about the importance of a child's amazement and standing up for what you believe. The "miracle" of the story begins when an old gentleman is hired on sight and pressed into service after the department store's Santa gets drunk at the start of the annual New York Thanksgiving parade. The old man says his name is Kriss Kringle, whose eyes twinkle and whose beard, he proves, cannot be taken off. Kringle is such a hit in the parade that he gets the full-time job as Cole's Santa and inspires good publicity by telling children the truth, even when it means sending them across the street to the competition, Shopper's Express store. Meanwhile, Susan, the main character, is beginning to wonder if there might be a Santa Claus after all. Because if there is, she knows what she wants: a father, a brother, and a house of their own.
Susan's dad has not been seen for years, but Bryan, a lawyer who lives next door, is in love with her mother, Dorey, who is a skeptic and does not believe in Santa or love.
The movie then goes into a courtroom where, after some shady tricks by a rival department store, an attempt is made to have Kringle declared insane because he believes he is Santa Claus. Bryan defends him, which ends in their winning the case. The movie ends with Bryan and Dorthy getting married and a little girl believing in Santa and the miracle that happened on 34th Street.