Senior Golfs at State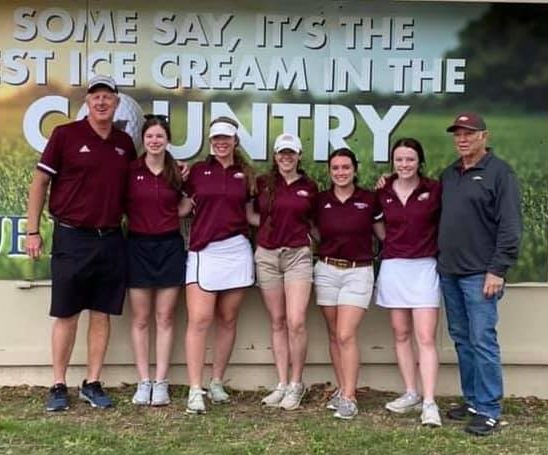 Senior Emily Chavers competed in the State Golf tournament on May 10-11 after qualifying for state and placing 4th with her team at the regional tournament.
"I'm super excited that Emily got to advance," senior Frankie Nelson said. "She works really hard and I'm so proud of her. Her being able to advance to the state tournament was just as exciting for all of us. It was the most exciting game of golf. It was full of anxiety as we watched them tally up the final scores. Golf is kind of looked at as a boring game, but being able to hang out with friends all day makes it really fun. I have made more memories on the golf course than anywhere else. I always try to make friends with the girls I'm playing with, which tends to keep me relaxed and positive. I'm proud that we were able to get this far and stick together as a team for so long. I'm really excited to see where we all go from here!"
Chavers competed individually in the state tournament representing the golf team.
"I am more than blessed to have the opportunity to represent my school at this tournament," Chavers said. "I am the first state qualifier since 1986, and I am very honored to be the second girls golfer to make it this far! I have worked very hard to get here and I could not be more proud of the school that got me to this point. I could not have gotten here without the support of my family, team, and coaches. They have supported me in every step of the way and I love each and every one of them for it! Golf was always something that my parents and I have played together, so it holds a very special place in my heart."
The team players were Kendal Crawford, Frankie Nelson, Rileigh White, and Allie Hughes. They placed fourth as a team in the regional tournament.
"I am proud of our achievements as a team. I wish we were all going to state, but I am so excited Emily gets to represent our school at the state tournament," Crawford said. "The biggest challenges were trying to find time to practice together with all of our other activities. Overall, I am glad I had the opportunity to even compete this season!"