Blast From the Past
Dress Best with the Latest Trends
Throughout the decades fashion trends have come and gone leaving a legacy that tends to seek viewers. These results were over a seven day time period and out of the 487 people logged on to the class year google classroom 228 people answered the survey.  Here are the results.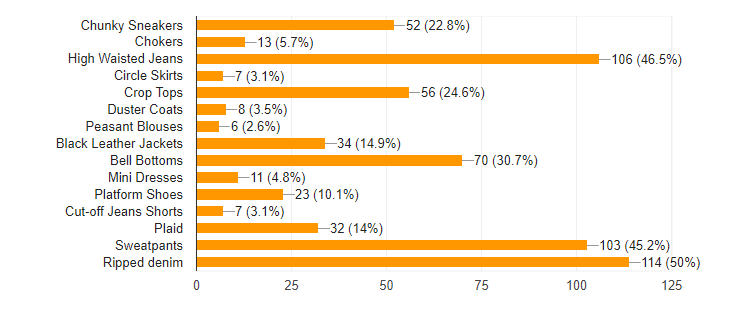 "Style is like a box of chocolate," freshman Luke Leatherman said.  "Ya never know what you're going to get" 
The student body found ripped denim to be the most popular with 114 votes for  it, taking 
up 50% of the total. The least popular being the peasant blouses with only 6 votes making up 2.6% percent of the total. The second type survey FHS took was a 'would you rather'.
"I live by platform shoes," junior Bailee Acreman said. "Learning to walk in them feels great." 
When the choice between chunky sneakers or platform shoes, the sneakers won out by 63.7% over 36.3% for the platforms.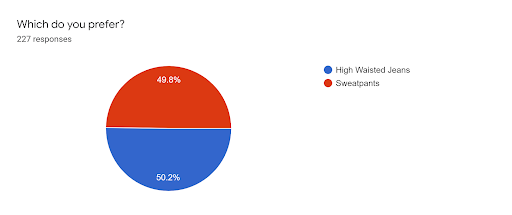 "I mean sweatpants and crocs will forever be my type of fits," junior Breyunna Dowell said. 
It was a tight match between high waisted jeans and sweatpants. With only 0.2% difference the high waisted jeans overcame the sweatpants.
"I love the black leather jacket and the plaid shirt," freshman Collin Bancroft said.
Between black leather jackets and duster coats, black leather jackets took the majority at a whopping 66.5% with duster coats being left behind at 33.5%.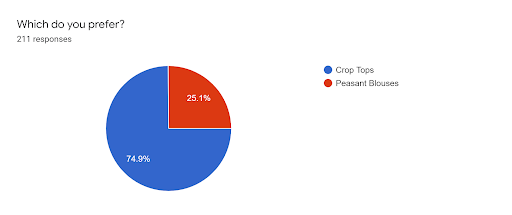 "I'm not a cross dresser," junior Mason Wright said. "But I would pull off a crop top like no other."
With 211 responses crop tops are at 74.9% and peasant blouses not so pleasantly at 25.1% which makes it the lowest percentage out of  the five' would you rathers'.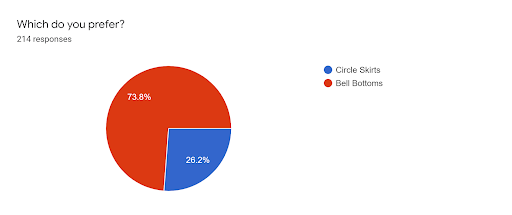 "Bell Bottoms are so cute and they are coming back into style and I love it,"  senior Savannah Ellis said.
Last but not least are bell bottoms with 73.8% and circle skirts at 26.2%, making bell bottoms the more popular choice.
Leave a Comment
About the Contributor
Payton Botelho, Entertainment Editor
I moved to Texas five years ago. Though I am loud, I prefer silence over noise. My favorite drama is Love O2O.

"When in doubt, add a halo taco"...