Cheer On through COVID-19 Crisis
Through the closure of the year due to COVID-19, next year's cheerleaders will have virtual practices until they can meet in person. Practice will start this week, and a fundraiser will start next week.
"This sport has pushed me to get out of my comfort zone and helped me gain confidence," varsity co-captain Carsyn Cox said. "I am really excited and can't wait for the upcoming year"
Along with Cox, senior Rileigh White is a varsity co-captain. Junior varsity's captain is Marissa Eppes.
"I have had many great mentors that have pushed me and helped me to become a leader," Cox said. "There are many great opportunities that come with being a co-captain. I am very excited to share this experience with Rileigh!"
The 2020-2021 varsity cheer team includes Audrey Archibald, Rynna Bonner, Emily Chavers, Calla Childers, Abby Coleman, Savannah Ellis, Mattie Hagen, Kensy Isaacs, Jenny Piña, Kelli Jo Richardson, Ally Robinson, and Jaysa Smith and mascot Riley Ralstin. Junior varsity cheer team includes Landry Bayless, Lily Beaver, Linsey Cockerell, Addie Cox, Ellie Grissett, Jacey Jones, Kennedy Lane, Cooper Lawley, Averi Minze, Emma Jo Smith, and Avery Thaler.
"Being part of varsity is going to be super fun and a great experience," said Bonner. "Tryouts were more stressful but also less at the same time due to less nerves."
Due to the stay at home orders from Governor Greg Abbot, tryouts were held in a virtual format.The cheerleaders had someone video them performing the required tryout material.Then, their videos were sent to the NCA judges and they filled out the score sheets provided. Once they were finished judging, the scores were available to be tabulated. 
"I honestly didn't know what to expect or how we would make it work but, thankfully, Varsity Spirit/NCA came to our rescue," cheer coach and Spanish 1 teacher Rebecca Watson said. "I'm looking forward to seeing what they will accomplish this year both individually and as a team!" 
This upcoming year will be Watson's first year coaching cheer. She cheered in junior high and high school. 
"I am extremely excited about coaching cheer," Watson said. "Although I have never coached cheer before, I have some amazing people in my corner who have coached for many years in the past and who are willing to help guide me along the way this year!"
Watson always knew she wanted to be a cheer coach if she was ever given the opportunity. After graduating high school, she told herself that she wanted to teach high school Spanish and be the cheer coach. 
"I honestly never expected to get the opportunity to have both of those goals realized," Watson said. "I want to coach the cheerleaders because I thoroughly enjoy cheer and the unity it brings to the cheerleaders, the school, and the entire community."
After being at home and away from school for so long this year due to COVID-19, Watson says she feels like the cheerleaders will be able to help FHS accomplish this both now and once they are able to come back together again.
"We are currently planning for next year and I am enjoying seeing everyone work together as a team and coming together despite our current virtual circumstances," Watson said. "I have been blessed with a great team this year and I'm looking forward to seeing them work together to bring new ideas to FHS through pep rallies, activities, etc."
About the Writer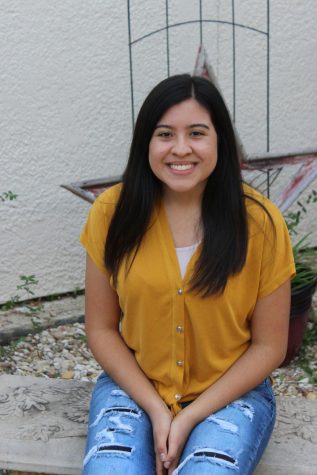 Nereyda Espinoza, Manager Editor
Nereyda is a senior and manager editor for the Eagle Beat newspaper. She competes in UIL Journalism and Number Sense. She is involved in Beta Club and...