Athletes Sign to College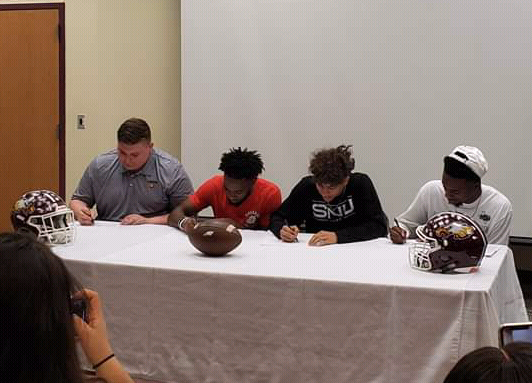 Tensions rise, and nerves take over as the boys sit with pens in hand anticipating the next season of their life, college football.
Seniors Chandler Noble, Jar'Mychael Hudson, Justin Abram, and DeQuann McWilliams signed to colleges February 5 in the north lecture room. 
"These young men worked extremely hard to help our team be successful this year," head coach John Bachtel said. "I'm proud of them for getting better each week. This allowed them to get noticed by colleges. I'm pumped that they are going to further their education. This is an exciting moment for these guys. I'm honored I got to share it with them."
Hudson signed to Navarro College as a defensive outside linebacker.
"First, I would like to thank God for allowing me to be signing to a college," Hudson said, "as well as the coaching staff in Fairfield, and lastly my hometown for pushing me and my brothers to greatness." 
Abram signed to Midwestern State University as a runningback.
"I chose this school because it felt like home when I went to visit it," Abrams said. "The experience is semi challenging but it's also a very interesting experience. The decision was hard, but I feel like I made the best choice for my career. I honestly never thought I would even have the option to sign to a college, and I am so thankful for this opportunity."
McWilliams signed to Southern Nazarene as a wide receiver.  
"I chose the school because they made me feel like family" McWilliams said. "It reminded me of our program and how we were coaches to be a family."
Noble signed to A&M Commerce as an offensive lineman. His grandfather and pastor have previously attended A&M Commerce.
"It feels like an amazing accomplishment and I am beyond blessed to be where I am!" Noble said "I chose this college because my Grandfather is an alumni, and it felt like such a special place. I cannot wait to see how I can compete as a football player on the next level."
About the Writer
Margie Savage, Photo Editor
Margie is a senior and the photo editor for the Eagle Beat newspaper. She competes in UIL Journalism and One Act Play. She is involved in Drama Club and...