Buy a Band, Buy an Education
Spanish Club Sponsors Fundraiser to Help Guatemalan Attend School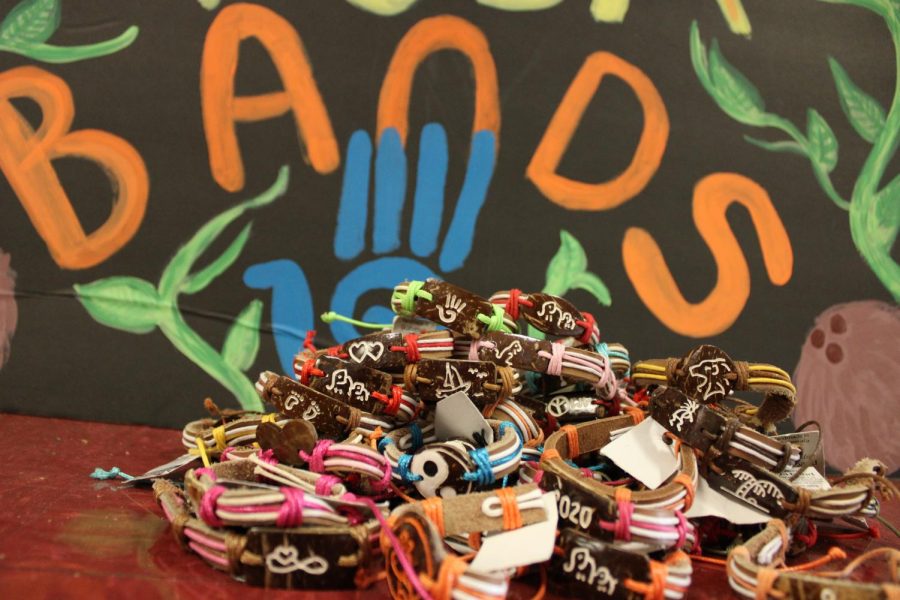 Spanish Club will sell Yuda bracelets from the Yuda Bands organization during break and both lunches until December 20 to raise funds to help their sponsored child Santos Daniel Son Lopez. All of the proceeds from the project go directly towards an educational scholarship that Spanish Club officers chose from the Yuda Bands project website.
"I knew that I wanted to get students involved in helping other students around the world that are less fortunate than we are here in the United States," Spanish club sponsor and Spanish I teacher Rebecca Watson said. "I wanted the students to be able to have the satisfaction of helping others because it is the greatest feeling to put a smile on someone's face and know that they are truly grateful for the help and support provided."
Lopez is from Chuisac, Guatemala which is about 30 minutes away from public schools. He works during the week and attends school on Saturdays. He lives with his parents and two brothers. His father cannot work often because he had a stroke affecting his brain. His mom stays home to take care of the family.
"The organization carefully selects the educational scholarship candidates and allows schools to choose the student they would like to help," Watson said. "The slogan for the Yuda Bands project is "Wear a band. Change a life!""
Lopez would like to become a web page designer. He aims to have a better job in order to help provide for his parents, and he also would like to attend college one day.
"Poor families remain poor because they don't have the means or 'tools' to better themselves through education and better jobs," Watson said. "This organization provides these families and students with the "transportation" to better their situation for generations to come."
Spanish Club had the opportunity to meet Lopez via Skype during the Spanish Club Christmas Party on December 12 from 1 p.m. until 3 p.m.. 
"We hope people learn not to take education for granted," sophomore and Spanish Club president Yadira Yepez said. "We want them to feel good about helping out someone that truly wants an education. Through this project, we want to show that working together as a community we can aspire to great things because working together is better than working alone."
The organization sponsors a fundraiser in American schools as a service project. Schools will sell handmade leather and carved coconut bracelets, called Yuda Bands, for $7. Currently, over 2,000 U.S. schools have hosted this fundraiser, allowing Yuda Bands to provide education for nine developing countries and hundreds of students.
"We decided to work with the Yuda Band organization because it would help a child have access to school," Yepez said. "We hope this lets people know that not everyone is fortunate enough to have free education and that people struggle around the world."
The project not only benefits Lopez, but provides jobs for Guatemalans who make the bracelets. Spanish Club bought 300 bracelets to sell. 
"I hope this influences the school community by bringing their attention to poverty in other countries," Watson said. "We have a tendency to take things that we have here for granted, and I wanted the students to be able to learn about situations in other parts of the world and have the opportunity to step in and help."
The Yuda Bands organization also offers service trips during the summer to Guatemala and Africa to work alongside Yuda Bands scholarship recipients. Spanish Club does not plan on going at this time, but it is something that Watson will consider and present to students in the future.
"I feel organizations like this are important because, without them, these students in Guatemala and Zimbabwe would never have the opportunity to attend public school and become educated," Watson said. "This is the main cause of the poverty cycle in these developing countries. Poor families remain poor because they don't have the means or "tools" to better themselves through education and better jobs."
About the Writer
Abbie Cunningham, Editor in Chief
Abbie is a senior and editor in chief for the Eagle Beat newspaper. She competes in UIL Journalism and Literary Criticism. She is involved in band and...