"A Positive" Change
Students Donate Blood to Carter Bloodcare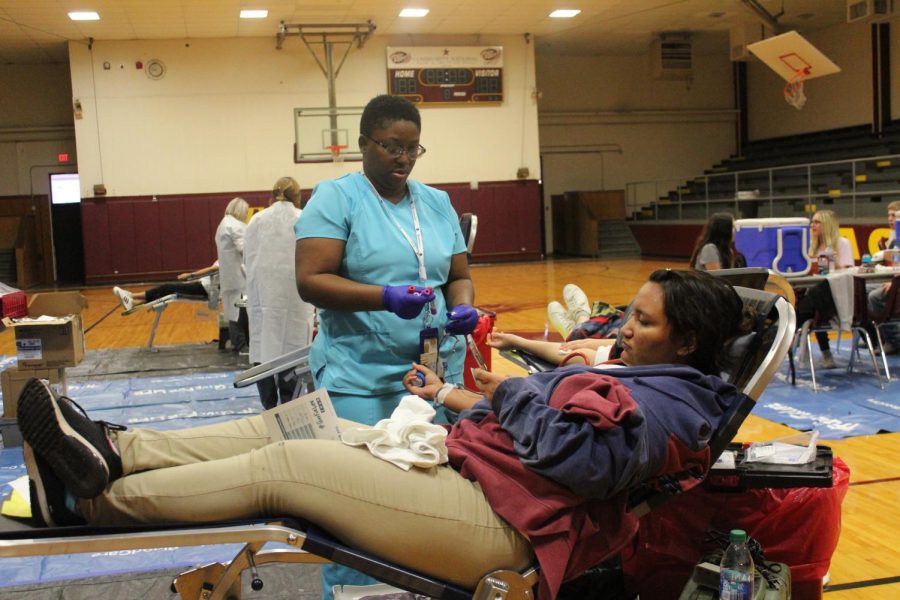 The high school hosted the blood drive on October 18 in the south gym. With a goal of 60 people, 70 people ended up donating, and this amount will help treat 210 people. 
   The school has hosted the blood drive with the help of Carter Bloodcare for the past ten years. Student council sponsor Katie Wade runs the drive.
   "Every person who donates a pint has the possibility of saving as many as three lives," Wade said. "So thank you to all who donated!"
   Senior Logan Todd takes part in student council. He has helped run the blood drive the past four years, and has donated since sophomore year.
   "It's so awesome to see all these volunteers donating blood," Todd said. "I love helping because I get to witness the different people that come in to donate knowing they're making a difference."
   Senior Garrett Brown gave blood for the first time this year. In the blood drive room, they have to keep it cold in order to keep the blood from spoiling.
   "I was not expecting such a cold room, and you cannot wear a jacket," Brown said. "Even though it was my first time donating, I was not really nervous cause I knew it was for a good cause."
   Senior Hallie Davidson donated for the first time. Her junior year, she was not able to give blood due to low iron but still made an effort to by signing up.
   "I was so happy to finally be able to give blood," Davidson said. "It is so rewarding and comforting to know that your helping so many people by simply giving blood."
About the Writer
Braden Bossier, Sports Editor
Braden is a senior and sports editor for the Eagle Beat newspaper. She competes in UIL Pros and Poetry. She is involved in varsity athletics, Interact...