Juniors, Seniors Rival Tomorrow Night
Hang on for a minute...we're trying to find some more stories you might like.
Student council will host Powderbuff at 5 p.m. and Powderpuff at 7 p.m. tomorrow. Juniors and seniors will play against each other in male volleyball, Powderbuff, and female football, Powderpuff. The funds are being raised for Kobe Freeman medical expenses.
"It felt good to put the seniors last year in their place," Judd said. "I feel like there will be a bunch of competition this year because of all the great athletes we have."
The senior class of 2019 beat the senior class of 2018 in Powderpuff last year when they were juniors. They started practices on May 5.
"It was expected," senior Jaise Oliver said. "We had more talent, we had more heart, and we wanted it more."
For the senior class, the coaches are seniors Jaise Oliver, Jashaughn Hatcher, Blake Posey, Cody Ferguson, and Josh Arrington.
"Because they have done it before, it is easier to teach them things," Hatcher said. "They catch on way faster and know what to expect so things tend to flow smoothly"
The junior class started practices on May 1. Their coaches include juniors Justin Abram, DeQuann McWilliams, Jar-Mychael Hudson, Tyler Haynes and Angel Limones.
"At the beginning, coaching these girls was like coaching seventh grade B teams," Haynes said. "I see some potential, but they still need more work by Friday."
Chemistry teach Cheryl Stone was the champion in Powderpuff. When she played, the freshmen and juniors were on one team and the sophomores and seniors were on the other. The ninth and tenth grade boys were the cheerleaders and the 11th and 12th grade boys were the coaches.
"Normally the senior team won," Stone said. "However my class, the class of 1983, won 3 years in a row: '81, '82, and '83."
It's been about four years since student council has sponsored Powderbuff. Seniors Aaryn Scires, Katie Judd, Ashlyn Partain, and Kailyn Partain are the coaches for the senior powderbuff team.
"Personally I'm having so much fun," Scires said. "The boys are very coachable and they are hilarious to watch. I don't know what the outcome of the game will be but whatever happens we are just gonna have as much fun as possible and compete."
Powderbuff junior class coaches are Emi Bonner, Rebecca Dunlap, Jada Clark, and Braden Bossier. They started practices on May 2.
"Coaching the boys in volleyball makes me have respect for our coaches because they do not listen at all," Dunlap said. "They should do good but even if they don't, we will have fun."
About the Writer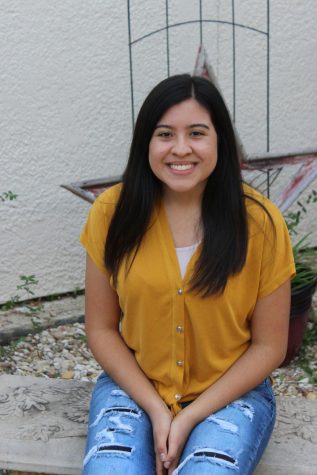 Nereyda Espinoza, Manager Editor
Nereyda is a senior and manager editor for the Eagle Beat newspaper. She competes in UIL Journalism and Number Sense. She is involved in Beta Club and...