Match, Set, Love All
Tennis Team Competes at District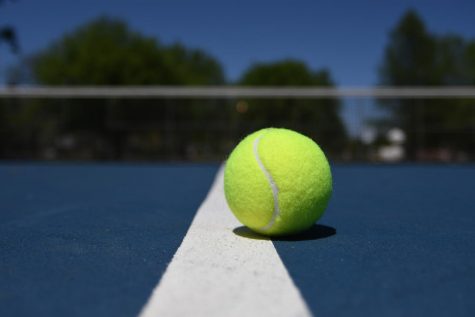 The varsity and JV tennis team competed in district in Madisonville. This year, Mr. Holmes took over the tennis coach position when Coach Edwards moved.
"It's been an exciting experience for me because this is what I've been wanting to do since high school," Mr. Holmes said. "I finally have gotten my opportunity."
The varsity also competed April 1 and April 2. Sophomore Eddie Sanchez placed 4th place in Boys Singles. In Girls Doubles, freshman Josie Draper and Junior Merrianne Markham placed 3rd. In Boys Doubles, sophomore Landon Espinoza and Junior Chris Scott got Consolation Runner-Up. The girls finished 5th overall, and the boys finished 4th.
"Our team had a good year and Coach Holmes did a great job at coaching us for his first year as our coach," junior Chris Scott said. "District went well but our team definitely has room for improvement."
The varsity team competed February 28 at Iredell in Waco, one of the biggest tournaments on their schedule.
"Our best tournament that we played in was the Iredell Tournament," Holmes said. "While we didn't play well at first, the players played hard in the end. So this team has some fight in them to keep pushing."
The JV tennis team competed in the district meet March 26 in Madisonville. In Mixed Doubles, Freshmen Alexis Gallegos and DeMarkus Hudson placed 2nd and Freshman Makenzie Van and Freshman Carl Markham followed right after finishing in 3rd. Sophomores Maria Fierro and Nashale Fierro also placed 4th in Girl Doubles, while sophomore Darian McDonald and freshman Julian Jefferson placed 4th in Boys Doubles. Freshman Preston Patrick won the Consolation Champion Boys Singles. The girls finished 2nd overall, and the boys placed 3rd.
"It was my first year playing tennis and it was really fun," said Van said. "I thought I did pretty good for my first district meet, but next year I'll be working even harder and looking forward to varsity."
Next year, Coach Hand will step down from head softball coach to take the tennis coaching position.
"I'm looking forward to see how Coach Hand will improve our team," Scott said. "I think she'll bring a new perspective which will be good for us."
About the Writer
Braden Bossier, Sports Editor
Braden is a senior and sports editor for the Eagle Beat newspaper. She competes in UIL Pros and Poetry. She is involved in varsity athletics, Interact...