For King and Country Review
Hang on for a minute...we're trying to find some more stories you might like.
Last October, Christian rock band For King and Country released a new album called "Burn the Ships" with 11 songs on it. Since then, they have been on a world-wide tour to introduce their new songs everywhere.
For King and Country consists of brothers Joel and Luke Smallbone. They are from Sydney, Australia and moved to Nashville, Tennessee when they were in about second grade. When they were young and new to America, they helped their older sister, Rebecca St. James, with her career as a singer by helping backstage. Joel always wanted to become a singer and performer, but his little brother Luke always dreamed of becoming a professional football player until a knee injury prevented it from happening. Luke then joined Joel and they started their pop duo Joel and Luke, which later became For King and Country, a name coming from the battle cry that soldiers used to yell as they prepared for combat.
My favorite band is For King and Country because they are so encouraging through their music and they always have the right things to say through their songs. When I am discouraged or upset about anything, listening to them helps me get through the day. One of their older songs, called Shoulders, on the album Run Wild, has been an inspirational song for many people across the nation. The song is about letting go of worries and holding on to God for help and support through tough times.
For a while I have dubbed For King and Country as the Christian rock version of Imagine Dragons. Their style is similar, and although both bands are encouraging in their own way, For King and Country is still the best band in my mind because their inspiration is from God.
I would recommend listening to For King and Country because their music style and performance motivates people to keep pushing through the hard times in life. Their songs remind people that they are not alone in the world and that they are worth more than they think. In God's eyes, everyone is loved and priceless; For King and Country portrays His message through their voices and instruments.
About the Writer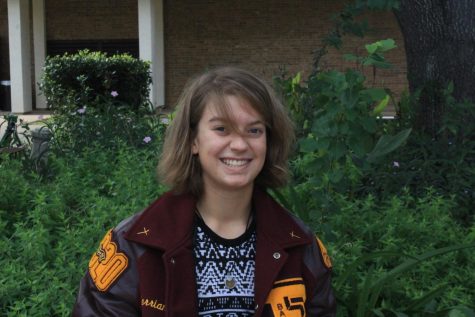 Merrianne Markham, Staff Reporter
Merrianne is a junior and staff reporter for Eagle Beat and a district and regional competitor for UIL journalism. In addition to journalism, she participates...