FHS Alumnus Opens NY Stock Exchange
Five long and hard years had finally brought the company to a milestone that will never be forgotten. For the rest of the world, it may have been just another bell sounding, but for Independence Contract Drilling, ringing the opening bell marked a point of success that had only reached it's beginning.
President and CEO of Independence Contract Drilling Anthony Gallegos rang the opening bell on channel CNBC on February 27 to celebrate the fifth year of his company being a part of the New York Stock Exchange (NYSE).
"During my career, I've always sought out opportunities to stretch my capabilities thru accepting assignments in new or different departments," Gallegos said. "I tell people all the time looking for career guidance to find an industry you think you might like, show up early and stay late, roll up your sleeves, work hard and the opportunities will present themselves. Ringing the bell at the NYSE was an honor that I never dreamed I would be provided."
Gallegos graduated from Fairfield High School in 1987. He met his future wife as a junior in high school and they will celebrate their 25th wedding anniversary this year. He also served in the United States Army soon after he graduated high school. He served in the Army as a roughneck, working on offshore drilling rigs.
"In the spring of our senior year in high school, a friend of mine named Mike James and I agreed to join together," Gallegos said. "Like the oilfield, I entered the Army at the very lowest level – an E-1 Private. I was an enlisted soldier. Eventually I was assigned to an Air Cavalry unit which flew attack helicopters. Our squadron flew Boeing AH-64 Apaches – the most technologically advanced and lethal attack helicopters in the world."
Gallegos holds a Bachelor of Business Administration from Texas A&M University and a Master of Business Administration from Rice University. He is a member of the Society of Petroleum Engineers and the International Association of Drilling Contractors.
"I have served the IADC in various capacities including Chairman of the Houston Chapter of the IADC," Gallegos said. "I was sponsored for entry into the Society of Petroleum Engineers early in my career by an engineer I knew from LSU. He made the recommendation based on our working relationship when I was a service provider while he was drilling offshore oil wells."
Independence Contract Drilling, Inc. (ICD) is an integrated onshore drilling service providing AC, programmable, BiFuel, multidirectional walking rigs. Gallegos became a part of the ICD's board of directors in October 2018. Before working at ICD, Gallegos was at the starting up of two other oil rig companies for many years.
"After being baptized, the marriage to my wife, and being present for the birth of my daughter, I would have to say that being involved in starting up two companies has been one of the most exciting achievements in my life," Gallegos said. "Starting up a company is one of the most exciting things you can do. The ups and downs during the experience are exciting and exhilarating."
Superintendent Tony Price was Gallegos' high school assistant principal. Gallegos' mother worked at the Fairfield school district and some of his aunts, uncles, and cousins have worked or are working at the district as well.
"He was a fantastic young kid, and he's done all the right things," Price said. "I was honored when I heard he rang that bell. He's a product of our school system that we're very, very proud of."
The opening bell refers to the beginning of the trading day on a stock exchange. However, in the United States, only the NYSE rings an actual bell every day. The stock exchange was founded in 1792 when two dozen stockbrokers formed an agreement under a Buttonwood tree.
"For me to be at an establishment as old and iconic as the New York Stock Exchange and have the honor to start the trading day by ringing the opening bell was an amazing experience," Gallegos said. "Ringing the bell was an example of an honor I didn't necessarily pursue but was afforded to me and I'm very grateful for that."
About the Writer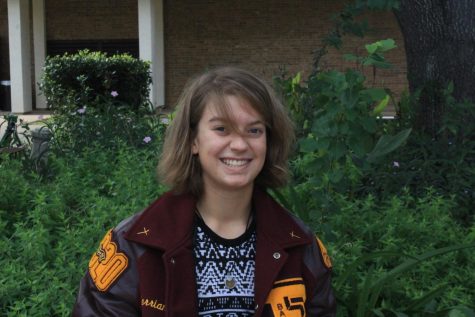 Merrianne Markham, Staff Reporter
Merrianne is a junior and staff reporter for Eagle Beat and a district and regional competitor for UIL journalism. In addition to journalism, she participates...