The Dragon Prince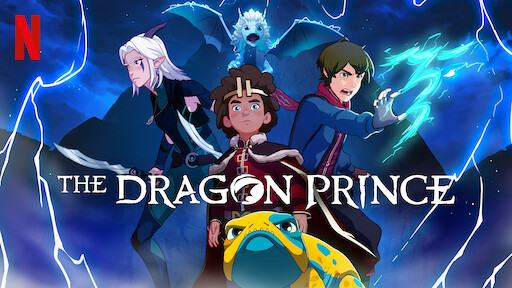 The Netflix series The Dragon Prince was directed by Villads Spangsberg. The main characters of The Dragon Prince are Callum, voiced by Jack De Sena; Ezran, voiced by Sasha Rojen; Rayla, voiced by Paula Burrows. The genres are fantasy, action fiction, comedy drama, and adventure fiction. It has an 8.4/10 star review on IMDb. The Dragon Prince has three seasons with nine episodes each.
A pair of half-brothers, Callum and Ezran, find themselves in an alliance with an elf, Rayla, after finding a dragon egg. Their goal is to return the egg, the Dragon Prince who is later named Azymondius, to the Dragon Queen Zeubia in exchange for peace between humans and dragons. Ezran is also the heir to the throne, later the king when he decides to take up the mantle in order to settle peace between Katolis and Xadia. 
The voice actors, especially Paula Burrows, is excellent. Her accent is really cool and adds to Rayla's character. Each episode leaves expectation of the next. Each plot twist had foreshadowing, but in a good way. Overall, I found The Dragon Prince fun and exciting to watch. There was never a boring moment.