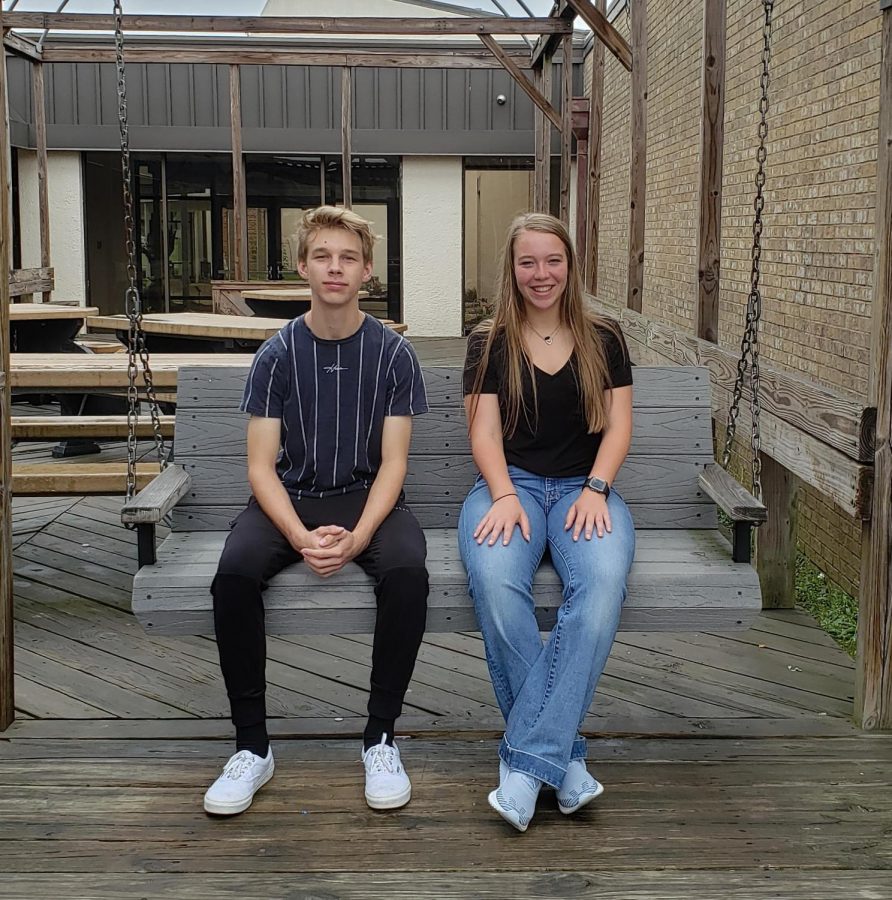 Will Prihoda and Kendal Crawford will graduate Valedictorian and Salutatorian of the 2021 class on May 28. The first announcement of their achievement was made at the student academic banquet on May 3.
Prihoda will be Valedictorian with a 5.47 grade point average. Prihoda is the youngest of five children and his parents are Crystal and Stephen Prihoda. He has gained an endorsement in STEM as well as scored a 27 on the ACT and a 1350 on the SAT, well above the average scoring. His plans post graduation are to attend Texas A&M University in College Station to study aerospace engineering. He hopes to eventually work for SpaceX or NASA. 
"I'm really grateful to my parents for encouraging me through high school and giving me the amazing opportunities I've had in my life so far," Prihoda said. "I've loved having all of my teachers and they have all helped me so much. I've been lucky enough to have some great teachers who have helped me learn and really taught me everything I know."
Some of his interests include tennis, which he plays at the school competitively, technology and video games, hiking, camping, and water activities such as kayaking and canoeing. 
Even with challenging classes he also participates in multiple school activities. Prihoda is a part of the Varsity tennis team, competes in the UIL Academics in the mathematics, number sense, computer science, and science competitions, and participates in concert band including extra competitions such as solo and ensemble in which he made state. 
"This honor has been a culmination of hard work and interest in my classes," Prihoda said. "Some advice I would give to any underclassmen is to just not give up. In the end, it'll all be worth it and you'll end up knowing more than when you started. Take every opportunity you get."
Crawford, daughter of Bill and Nicole Crawford, is graduating salutatorian with a 5.28 grade point average. She is graduating with endorsements in STEM, Business and Industry, Multidisciplinary Studies, and Arts and Humanities. Crawford has scored a 26 on the ACT and a 1240 on the SAT. Her plans post graduation are to attend the University of Oklahoma and major in biochemistry. 
"It feels really nice to receive this honor. All of the late nights and early morning tutorials have all been worth it," Crawford said. "I would advise underclassmen to enjoy highschool and be involved. It really is all about what you make it. "
Crawford enjoys traveling, watching basketball, and being out in the sun. She is a part of many school competitions and activities including volleyball, track, tennis, golf, twirling, FFA, Beta Club, Interact Club, UIL Academics, student council, and student government.
Outside of school she has had jobs as a nursery assistant and babysitter. She has also volunteered with her youth group, twirling kiddie camp, the recycle drive, and at the hospital escorting people to their respective places. 
"I appreciate all the memories I have made, the opportunities I have been given, and the friendships I have made," said Crawford. "I also appreciate all of the teachers and staff that have pushed me in various ways."